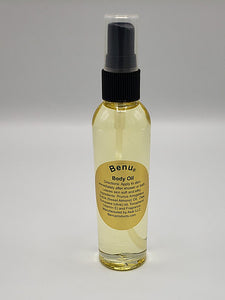 Have you ever arrived at your destination and looked down at your legs or feet and thought... "How did I forget to moisturize?".  Too often in our haste to get to going in the morning we forget to tend to our dry skin before leaving the house.  Our Moisturizing Body Oil smells so good that it will be hard to forget to apply it.  This light body oil with olive, almond, and vitamin e oils is excellent for moisturizing dry skin and it smells lovely.  This product will leave your skin soft and supple with an intoxicating scent!   4 fluid oz.
Uses
Daily Moisturizer
Post Shower Moisturizer 
Bath Oil
Massage Oil
Fragrance Oil
Directions
Apply to skin immediately after shower or bath or or add 2 to 3 sprays to a warm bath and slip into softness. Leaves skin soft and silky with a hint of shine. May also be used as a light fragance oil.
Ingredients
Prunus Amygdalus Dulcis (Sweet Almond) Oil,  Olea Europaea (olive) oil, Tocopherol (Vitamin E) and Fragrance.